Principal's Message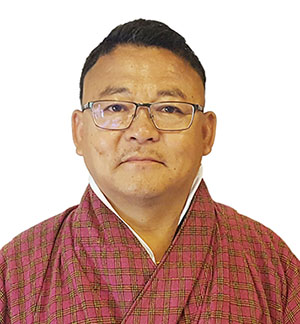 Dear Parents, Teachers, and Students,
Firstly, with immense pleasure the School Administration Team (SAT) would like to inform you that we again hit the top list in the "Top Ten Schools in the Country" for the year 2019 (at both MSS and HSS levels) and I would like to thank all of you from the core of my heart. There is no denying the fact that the competition amongst schools in the kingdom is becoming fiercer each year and as a result the achievement comes at a lot of personal sacrifices from each one of you; it would have not been possible without your hard work and dedication.
Well this well deserved achievement is certainly comforting after we've all experienced the massive shock of COVID-19 over the last two months. Congratulations! We must feel honoured and blessed for successfully hitting the top year after ever since the School Performance Management System (SPMS) was introduced by Ministry of Education (MoE) in 2010 - for twelve successive years.
Currently, at a time still filled with uncertainty, we are aware that we have no choice but to adapt and plan suddenly for any eventuality – prepare for the unprepared and continue to excel. Accordingly, our (SAT/HoDs) decisions will keep changing to see that we are as a school setting examples in upholding national interests and observing health protocols. We must relentlessly provide our full support to fight against COVID-19 and also see that education continues.
As has always been the case, our collaboration is superb and we are doing very well in our delivery of EiE curriculum and community vitality programs. Please keep it up and do carry on supporting teacher colleagues, parents and students who are facing challenges. The SAT/HoDs have been trying our best to live up to our EiE Pledge, "My Students, My Responsibility - MSMY" (Versions 1 to 4). We are clear that all of us are rolling into an entirely new education system and we have no choice but to stand on the new platform to deliver our lessons. We are adjusting to meet the new reality of digital teaching during a pandemic, and we do realize that there's no one-size-fits-all approach for not just students at different key stages but also for teachers/parents. Across the country, educators are being equipped with new tech tools and UA teachers are no exception — devices, apps, software, and online textbooks — in greater volume than ever before. More recently our MoE launched Self-Instructional Materials (SIMs), an alternative educational resource through print media for students who do not have access to internet, BBS and e-learning facilities – "Reaching the Unreached" the SIMs were intended to help about 16,884 students who do not have access to e-learning platforms. UA apparently is one school where we did not have to opt for the SIM option. Nevertheless, the push to train teachers on how to effectively use that technology must be in full swing to see that education does not stop and we continue to remain atop.
Consequently, SAT and HoDs have been meeting and we wish to share some of the outcomes:
Monthly Tests:
The monthly tests were intended not just for purpose of assessment but to put to account students who were not very serious with the assignments/tasks and Google Classes. We are happy that it just got over and the SAT/HoDs are waiting for the consolidated results for analysis and record. Please note that consolidated results will be available and a student/parent can access his/her result using the password issued by the ICT Dept/Class Teacher by 8th May, 2020.
Departmental Meeting:
It was resolved during the SAT/HoDs Meeting on Friday, 1st May, 2020 that each HoD must conduct a meeting observing health protocols for their department. The meetings were convened observing strict health protocols and got over on 6th May, 2020. The meetings were aimed to:
Share e-teaching good practices

Boost teachers to enhance and innovate on e- teaching
Ensure well balanced coverage of EiE curriculum
Further complement the lessons delivered on BBS

Inform on proper documentation of task carried out by the teachers and the students

See that teachers do have effective quality communication with students and parents on other SMPs
Look for amicable solutions to the challenges teachers, students and parents are facing

Prepare for "Preparedness and Response Plan for their class" – this sharing is going to help the HoD of the Department to prepare, "Departmental: Preparedness and Response Plan".
PD on Google Classroom:
The SAT/HoDs has been emphasizing on further strengthening the e-teaching strategies. ICT Department has been conducting a series of professional development (PD) programs on Google Classroom based on the request of the HoD for his Department. The PD programs were designed to help teachers who are struggling with e-teaching. UA's distance learning solutions (DLSs) slogan, "You connect or disconnect", there is no third option in e-teaching made the impetus on EiE loud and clear.
Google Classroom Guest Teacher(s):
The SAT also recommended and encouraged HoDs/Class Teachers to facilitate invitation of teachers teaching the same subject as guest teacher. Obviously, the lesson will pick up if the guest teacher is better with e-teaching and so will the teacher learn.
BBS Key Stage Lessons:
The SAT/HoDs are convinced that all the teachers are complementing on the BBS Key Stage Lessons for their subjects and that other social media platforms (SMPs) and parents chat groups are employed to engage all the students if possible. SAT/HoDs also appreciated teachers who used "Zoom, Webinars, etc…" to foster quality discussion on important or difficult concepts in technical subjects such as mathematics, accountancy, and sciences. It has also been decided that we try to achieve the 100% attendance in e-learning.
Preparedness and Response Plan for Your Department:
The recent Private Schools Association of Bhutan (PSAB) meeting attended by Principal did discuss proposing our government to consider opening of schools following strict COVID-19 protocols. Boarding schools with strict monitoring or totally shut off to visitors can be practiced; it definitely is nothing new. Our neighbor Thailand, which is off limits to foreigners and international airlines, has allowed international boarding schools to operate with strict protocols. Hence, in the event the government considered schools to open if schools had convincing, "Preparedness and Response Plan" to guarantee safety for students, UA should be number one school to open as all our teachers including the support staff thinks that we will be fine. Therefore, while the SAT is revising, "UA's Preparedness and Response Plan for Outbreak of Novel Coronavirus (2019-nCoV)", it is most vital that each department comes with one Preparedness and Response Plan to best fit the larger interest of the Department from both ALS and safety point of views. As asserted the SAT will consider the departmental plan to prepare the final version of "UA's Preparedness and Response Plan for School Opening: 2020" – a prioritized risk mitigation measures within the school consulting health experts.
Belongings of Boarding Students:
Although a few boarding students came to get their things as they had left all their things in a hurry when the school was closed on 6th March, 2020, most students' things are still lying in the hostels. Routine cleaning under supervision is carried out at least once a week. While we have absolutely no problems with bedding and clothes, we are quite concerned about the tucks left inside the lockers. The items may be getting bad or worse still it is attracting rodents and insects.
Hence, we have asked the matrons/wardens to request students/parents/guardians to see if they can arrange (observing strict health protocols) to come and remove the perishable food items from the lockers. Those tucks kept outside are being handed over by the matrons/wardens to Ata Lungten (Mess Supdt) to be kept in the cold storage.
UA Community Vitality Program (CVP):
The 16 fresh Dessups from UA are on their volunteer rounds during their free hours. Besides, UA has also accelerated its "Agriculture for Food Sustainability" Program. The UA Desuups have committed to take up a project under the program. This is to ensure that our mess can get some green vegetables from our own garden when the boarding students report.
Additionally UA will be involved in three more CVP activities. All the CVP activities as usual will be carried out observing strict health protocols:
Activity

Date

Focal Person(s)

Painting work in the Founder's archive

6th May, 2020

Principal (Overall Concept)

Mr. Maitaraj Subba (Contemporary Art)

Lopen Kinzang Dorji (Traditional Art)

Miss Wangmo & Mr. Thinley (Collage art)

Mr.Heerun & Mr.Phurba (Lay out and Support)

Offering of prayers and butter lamps at Rada Lhakhang, MTC, Tencholing, Wangdiphodrang Day 14th Day Observation Late - Dasho Goongloen Lam Dorji, UA Family Member

at 2PM on 9th May, 2020

UA Desuups/SAT (permission sought from MTC Commandant)

Prayers, Butter lamps and Mass Cleaning in memory of our Founder Late Dasho Yab Ugyen Dorji

9th May, 2020 to 12th May, 2020

UA Green Force/UA Desuups from Khamsum Namgyel Chorten, Zomlaythang, to Anim Dratshang beginning and ending with offering of prayers and butter lamps

Day 1: Offering of Butter Lamp in Khamsum Namgyel Chorten and Mass Cleaning

9th May, 2020

Khamsum Namgyel Chorten, Zomlaythang, to Lekithang - Punakha Central School Gate (LD)

Day 2: Offering of Butter Lamp in Punakha Dzong and Mass Cleaning

10th May, 2020

Lekithang (PCS Gate) to Khuruthang (FCB Gate) (SoS)

Day3: Offering of Butter Lamp in Khuruthang Lhagang and Mass Cleaning

11th May 2020

Khuruthang to Wolokha Hostel (Com Dept)

Day 4: Offering of Butter Lamp in Sangchen Dorji Lhendrub Choling, Nunnery, Wolokha and Mass Cleaning

12th May, 2020

Anim Dratshang to Wolokha Hostel (Arts Dept)
After all is said and done, we accept that we continue to face a host of challenges when it comes to teaching or assessing remotely; the digital divide - grappling with unfamiliar technologies, misuse of e-resources, or those who are facing domestic problems, resource problems, recalcitrant and risk behavior — the list goes on. We recognize that there's no reasonable way to replicate a school day in our homes – a school is a school after all. Therefore, we hope and pray for life to regain normalcy and schools to reopen soon.
Finally, let me again thank each one of you from the core of my heart for all the sacrifices made. I am very sure with the amount of collaboration and dedication we will continue to excel – we will.
Your Principal